DEBBY KIRBY

Debby is the resident silk weaver at Walford Mill Crafts and has over 30 years of textile knowledge and expertise.
Visitors to her atmospheric workshop can watch the fascinating processes she uses to weave her distinctive fine silk scarves, accessories and interior accents. Debby welcomes visitors, explaining and demonstrating each step so that they are able to learn more about weaving.
All of the silk threads are carefully hand dyed and designed by Debby, which ensures that each woven piece is fresh and original. Her workshop is an ever changing kaleidoscope of vibrant colour where you can experience the sound of her Harris countermarch loom, which many have described as the 'heartbeat' of Walford Mill.
France, Italy, New York and her home county of Dorset have all inspired Debby to create innovative and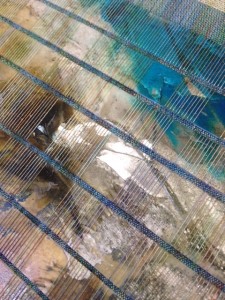 distinctive ranges of work. Her love of architecture is apparent in many of her scarf designs.
Debby has invented and perfected a method of hand weaving photographs and paintings, a wholly unique practice that has led to collaborations with a number of artists and photographers.
After an incredibly busy 2016, which saw Debby raise over £4,000 for two charities, Debby is now concentrating on a number of new projects; A range of new scarves and a collection of large-scale, panoramic seascapes, created in collaboration with her husband, Jez Randall, are currently in the pipeline.
Please email or call Debby if anything catches your eye.