Collaboration with Alison C. Board
16th May 2014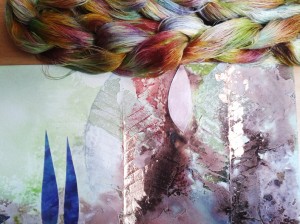 Earlier this year, Alison and I worked collaboratively for the exhibition 'Unfold' at Walford Mill Crafts and after a successful partnership, we decided to develop what we discovered.
Alison is a mixed media artist and for this series of experiments, she has combined printmaking, watercolour, ink and gilding powders to produce a collection of large surfaces which I will then weave in to the warp. We intend that these will be a series of wall hangings which will be fully reversible as Alison has embellished both the front and the back.
This collection of work will be woven to coincide with Dorset Art Weeks and customers will be able to purchase them both from myself and Alison. We hope that they will have the potential to be developed into a series of interior accents.
Scarves on the loom
|
Dorset Art Weeks